Who These Guys Are: Jordan Brooks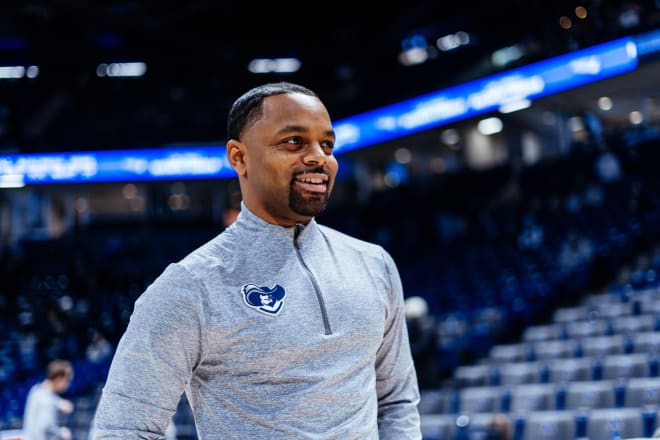 With the departure of two assistant coaches, Robert Kirby and Akbar Waheed, Georgetown is efforting to fill those spots. As to be expected, a slew of replacement names are being thrown around, leaving fans to inevitably ask "Who are these guys?".
Well, a series has been birthed, Who These Guys Are will look at many of the names being associated with the pending Hilltop staff hirings. This inaugural episode presents Jordan Brooks. Information was gleaned from public bios and sources.
A 2011 graduate of Flowers High School (MD), Brooks earned All Met and All Prince George's County honors as a senior. He then matriculated to, eventually graduating from Hampton University in 2011, earning a sheepskin in sports management, while also later nabbing his MBA from Goldey - Beacom, playing there in 2012.
Brooks' five year college coaching resume's latest stop is Xavier, where he's Director of Recruiting. It makes sense, given his demonstrated ability to lure talented players and also developing them.

Tyrell Ward, current high school senior and former Xavier signee,, has long had a tight relationship with Brooks, one that helped land him in Cincinnati. With Xavier's staff changing, Ward has reopened his recruitment, hearing from the Hoyas ,Providence, Va Tech, UCF, Pitt and Louisville. Xavier's 2022 recruiting class, which Brooks spearheaded and managed securing, is highly regarded nationally as well as in the BIG EAST.
At Howard (2017-19) , Brooks helped develop and recruit eventual All-MEAC player and UConn standout RJ Cole. CJ Williams, Howard and the MEAC's historical top scorer is another player linked to Brooks. Over the two years he was there, Howard's record ticked up from 10-23 to 17-17, the last including a CBI postseason appearance.
While on the campus of Southeastern Lousiana between 2019 and 2020, Brooks recruited and helped develop Keon Clergeot and Gus Okafor. The later made All-Southland Conference, 1st team for 2021-22.

That Brooks can reel in collegiate players is no surprise, given his success coaching and recruiting in the DMV (District-Maryland-Virginia) AAU/travel team space. His related resume consists of work in the 14u, 15u and 16u strata, assisting DC Assault, Team Takeover, Team Durant and Team Statement in the process.
Resultantly, sources connect him to the likes of 2023-24 high school standouts Ike Coleman, Babacar Mbenque, Deshawn Harris-Smith, Shawn Simmons, Jahnathan Lamothe, Jaeden Mustaf and Khani Booths - several of whom have visited Xavier. These players are both DMV and otherwise based.

What's the skinny on Brooks and recruiting? Is he a developer and X's and O's guy also? Who is he as a man and is there a real chance he could land on The Hilltop?

Visit Premium Court for that.