Visitors are Visiting Pt. 2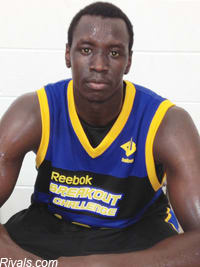 August 29, 2012
- As was revealed two days ago via a
Premium Court
posting linked in
Visitors are Visiting Pt. 1
, Class of 2013 forward/center
Akoy Agau
recently visited Georgetown. The 6'9" Nebraska native toured The Hilltop last Monday, his second visit.
The main subject of
Pt. 1
, was the visit of another Class of 2013 guy, guard,
Roddy Peters
. The 6'4" combo guard who attends Suitland High School (MD), had previously been on campus to play.
Peters is ranked 39th nationally by Rivals.com, while Agau is slotted at 83.
Well, Blue and Grey tours keep going on strong; yet another backcourt performer took a trip to Northwest, Washington, DC today. To find out who he is, see this Premium Court posting.
Also there is more on Agau, including his two next scheduled visits. For his next two scheduled visits,
click here
.
Agau interview from July 2012