Press Release: Hoyas repel Retrievers
This is an official press release. Discuss the game on Premium Court!

Georgetown Men's Basketball Tops UMBC in 2020-21 Season Opener




Box Score WASHINGTON – The Georgetown University men's basketball team won its 2020-21 season opener 70-62 over visiting UMBC on Wednesday evening at McDonough Arena. The Hoyas have now won five-straight season openers and all four during the tenure of Head Coach Patrick Ewing.
ON THE RECORD "This was our first time playing somebody other than ourselves. It's still a work in progress … We did a much better job in the second half, defensively, keeping the ball in front of us to be able to go up … I keep telling the guys, in the future when we've got these wide open shots, we've got to make them." - Ewing on the game "Coach Thompson is an integral part of my life. I've had the opportunity to play for him, for him to be a mentor, a friend, a confidant and I had the towel over my shoulder in honor of him. All the things the guys have on their jerseys - they are using their platform to fight for their rights. We have lost too many people to senseless incidents."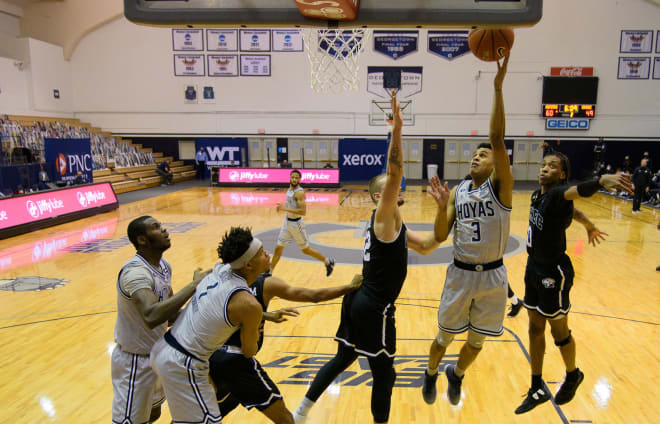 HOYA HIGHLIGHTS Jahvon Blair led the Hoyas with 23 points and a career-high eight rebounds to go with five assists. He eclipsed the 20-point mark for the seventh time in his career.Qudus Wahab posted his second career double-double with 12 points and tied a career high with 12 rebounds.Donald Carey added 13 points in his debut for the Blue & Gray and knocked down a game-high three 3-pointers.Jamorko Pickett chipped in 10 points and eight rebounds, Kobe Clark hauled in 10 rebounds off the bench and Jalen Harris had six assists to lead all players.Georgetown dominated the glass, pulling down 58 rebounds compared to 38 from UMBC. The Hoyas outrebounded their guests 21-8 on the offensive boards.
HOW IT HAPPENED A low scoring affair early, Pickett's 3-pointer at the 10:55 mark gave Georgetown a 15-10 lead before the Hoyas grabbed a double-figure advantage up 34-23 with just over five minutes to play off of back-to-back Carey triples.UMBC chipped away at the lead down the stretch, pulling within four down 34-30, but an emphatic putback slam from Malcom Wilson with two ticks on the clock gave the Blue & Gray a six-point lead, 36-30, going into halftime.Coming out of the break, UMBC cut the deficit to 36-33 but a 16-2 run from the Hoyas over a 4:26 span put Georgetown up 17 at 52-35 and forced the Retrievers to burn a pair of timeouts.The Hoyas would push their lead to 18 at 58-40 with 11:26 left in regulation. UMBC managed a late run to pull within two possessions in the final minute but the Blue & Gray sealed the win on the charity stripe with a pair of free throws from Pickett.
OF NOTE With the victory, Head Coach Patrick Ewing earned his 50th career win at the helm of the Georgetown men's basketball program.Blair moved into 11th place all-time in career threes on the Hilltop, passing DaJuan Summers with 146. He is now just two behind Jessie Sapp to move into the top-10 all-time.The Hoyas improved to 4-0 all-time against UMBC. Georgetown has now defeated the Retrievers in back-to-back seasons.Georgetown's win is the first at McDonough Arena for the Hoyas since a 77-65 victory over West Virginia in the first round of the 2014 NIT Tournament.
UP NEXT FOR THE HOYAS The Hoyas return to action on Tuesday, December 1 as they host Navy at McDonough Arena. Tip-off is set for 6 p.m. and the game will be broadcast on CBS Sports Network.
-- During the months of November and December, all Georgetown Men's Basketball home games will be played at McDonough Arena. In accordance with Washington, D.C., regulations which limit the size of in-person gatherings, fans are regrettably not permitted to attend home games at this time.