Pair Decides to Broaden Opportunities
Yesterday Georgetown announced to additional players entering the NCAA Transfer Portal, as graduate guard Donald Carey and sophomore forward Collin Holloway decided to do so. Georgetown's announcement is below.

Carey and Holloway join Kobe Clark, Tyler Beard, Timothy Igohoefe and Jalin Billingsley in the portal. The first two are now headed to SE Missouri and Pacific, respectively. Expect at least one other roster change among 2021-22 Hoyas.

Be sure to discuss this on Premium Court, where additional information exists and more will be provided.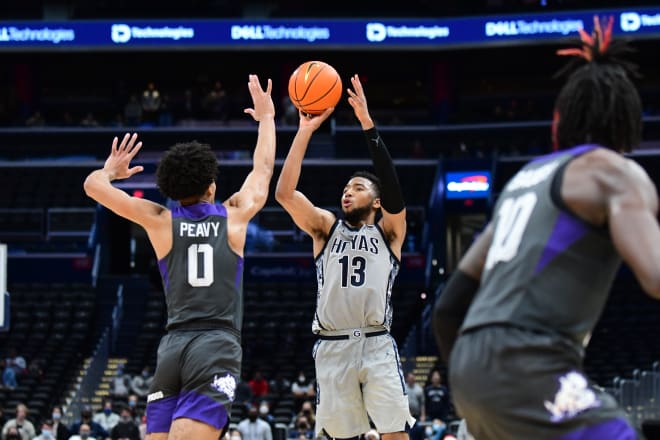 Carey and Holloway Enter Transfer Portal
WASHINGTON – Georgetown University men's basketball players Don Carey and Collin Holloway entered the NCAA transfer portal on Thursday. Carey previously declared for the 2022 NBA Draft while maintaining his college eligibility.
Carey, the first captain named under Head Coach Patrick Ewing, has spent the 2020-21 and 2021-22 seasons at Georgetown following stints at Mount St. Mary's (2017-18) and Siena (2019-20). Carey has one year of eligibility remaining due to the impacts of COVID-19 on the 2020-21 season.
In two years at Georgetown, Carey appeared in 54 games, making 48 starts while averaging 10.9 ppg, 3.8 rpg and 2.3 apg. The 6-foot-5 guard shot 43.8% (192-438) from the field and 40.9% from 3-point range while hitting 90.0% (99-110) of his shots from the free throw line.
In four years of collegiate basketball, Carey scored 1,215 points, grabbed 386 rebounds and dished out 305 assists in 116 games played with 108 starts to his credit. Following the 2021-22 regular season, Carey was the recipient of the BIG EAST Sportsmanship Award.
Holloway has spent the last two seasons with the Blue & Gray, appearing in just 10 games his freshman season before returning from injury his sophomore year to play in 28 games, starting 20. During the 2021-22 season, Holloway averaged 9.2 ppg and 2.9 rpg while shooting 45.3% (86-190) in 25.5 mpg.
For his career, Holloway put up 7.2 ppg, 2.3 rpg and shot 45.8% (92-201).
Carey remains fully dedicated to the NBA draft process. Both Carey and Holloway have elected to keep their options open, including continuing their careers at Georgetown or at another institution.