NHSHF: IMG Academy vs. Gray Collegiate
On Saturday at the National High School Hoops Festival, IMG Academy and Gray Collegiate lock horns. Tip-off is 4p EST.
General event info is at the bottom of his article, while a look at Gray and IMG is presented below:
IMG Academy (FL)
When people hear IMG Academy, they automatically conjure one of the best high school basketball teams in America, a crew with multiple future high major, Division I players. That thought is correct.
But the team is much more than talent; head coach Vince Walden suggested IMG's success "has been a result of our relationships…Kids know you are trying to get them better, then the buy-in comes".
Though Walden noted "Hard work doesn't guarantee you success, but it gives you a chance", he repeatedly indicated as a unit IMG puts their collective nose to the grindstone, adding his young charges "are good kids who compete". It's his job to ensure they enjoy playing, battle, improve and "are prepared, have an edge going into college as a freshman".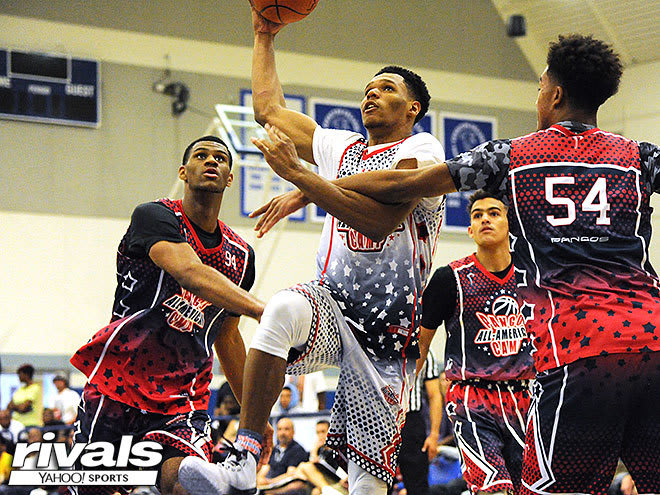 Schemes: Walden said of his Ascenders, "We can score in transition...If we can get out and run, our team is built to where we can apply pressure at all positions".
Continuing, he indicated "Spread out guys and let them play" is an offensive mantra. Though "I think we, especially at this level have a tendency to over-coach a bit", IMG desires "structure, which gives angles and opportunities". He and his staff at a certain level "Try and stay out of their way", creating "a mixed bag" as "you want them to have discipline and structure for the next level, but you want them to have the freedom to get better".
But it's stopping people is where Walden focuses most. "If I can get those guys to be tough on the defensive end, something good is going to happen. To make that occur they must be "present, attuned and tough".
A few players of note: Discussion starts with Trevon Duval, the 6'2", 189 pound pound point guard widely thought to be the best at that position in 2018's class, currently deciding between Seton Hall, Baylor, Duke, Kansas and Arizona. Visits to those schools will take place this spring, with a decision produced afterward.
On the court, Duval is a high flying performer that scores and defends. "He's talented. But he's also a good kid, he's a worker" said Walden of Trevon, who came to IMG this season "with a lot of stuff his dad and other coaches taught him". Additionally, Duval "is an intellectual, studies the game" stated Walden, one who "Has competitive character. Is just not one of these potential guys".
Burnishing Duval's mental game stays "in line with what the big goal is, The League". Yes, Duval has a legitimate chance of being in the NBA.
Emmitt Williams (6'7", 220 pounds) is "Long, athletic and plays with the physicality of a winner, but also a man who is hungry to make something of himself" opined Walden. A rebounder who "goes and gets it", the Class of 2018, power forward Williams also "Scores in the paint" while providing "tremendous basket protection".
FSU, UF and Miami have all offered him, along with LSU. Pitt, Kansas and Iowa state are showing interest.
Isaiah Stokes is another big – 6'9", 255 pound – frontcourt Ascender , a senior who signed with Florida. "He's very skilled, has a high basketball I.Q.", shared Walden.
X-factor: As deep as IMG is, Walden identified two players, Keyontae Johnson and Silvio De Sousa as guys who are necessary to win consistently.
Johnson, a 6'5", 212 pound junior wing is athletic, long and excels in the classroom. "He's figuring it out" said Walden, "Been getting better and better". Providence, Georgia Tech, Virginia Tech and ODU have offered.
De Sousa stands 6'8", 241 pounds as a junior power forward and is an interesting synthesis, so to speak. "If I could measure him against my own team, he has a skill set close to Isaiah and some of the physical gifts Emmitt has. He's right in the middle of them" opined his coach. This includes the ability "Shoot out to three, bounce it a little" and increasingly, through hard work, guard smaller players.
Maryland, FSU, Louisville, LSU, Vanderbilt and UNC are showing love.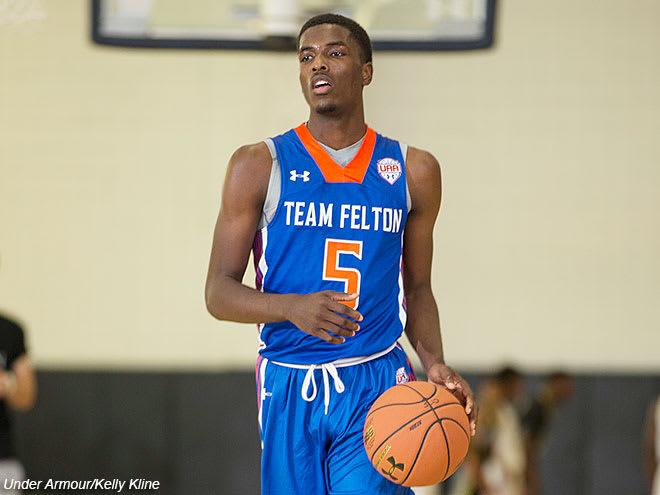 VS. 
Gray Collegiate (SC)
Skinny: Head coach Don Bethea dubbed his War Eagles "Hard nosed". Based in South Carolina, where "kids compete and play hard", Bethea opined of his players "We're a bunch of skilled, tough guys".
Schemes: Regarding putting the ball in the cup, Gray Collegiate uses "A lot of ball screens, some four out, one in" in the half court said Bethea. But really the War Eagles like the fast break game.
To run you have to get stops (and rebound the ball). In terms of defense Bethea's crew is primarily an "in your face, man to man team", shared the coach. They have zone in their arsenal, but use it sparingly.
A few players of note: Any discussion of Gray Collegiate personnel must start with senior Jalek Felton, the 6'3" plus, 190 pound shooting guard, headed to UNC. Bethea simply said of Felton "He can do everything".
Add Juwan Gary to the list; a 6'7", skilled high rising swingman, Gary is a Class of 2019 star. South Carolina has offered, as have UNLV, ECU and Clemson.
X-factor: Bethea's floor general, Alil Robinson, gets the nod. Also in the Class of 2019, he's on the controls, making sure the team runs smoothly. Western Kentucky, College of Charleston, Charleston Southern, ECU and others are showing him love.