Learning Hoyas start with win
November 7, 2018 - Taking down Maryland-Eastern Shore 68-53 last night before 4,189 fans was not without problems for Georgetown in both team's season opener. Head Hoya coach Pat Ewing seemed to take G'Town's hiccups in stride.
"We still have a long way to go; working, still grinding, still building our team dynamics" said Ewing afterward, initially responding to a question regarding his freshman class's play, but extrapolating it team wide. "Just like everyone else, this is the first day.
"So there were times when they shot when they should have passed it, or passed it when they should have shot it…We're still learning and learning each other".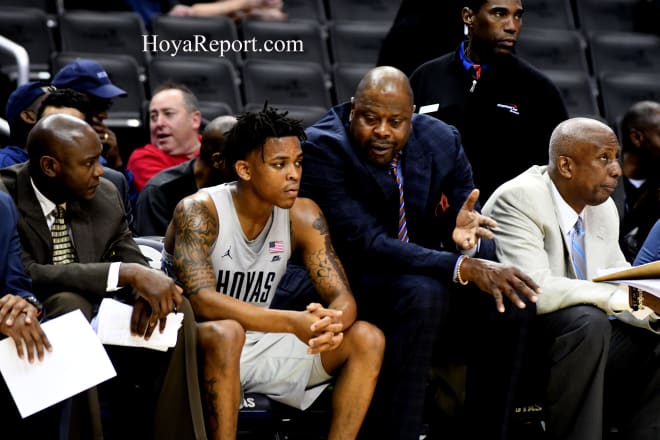 Speaking of those frosh, the quartet generally acquitted itself well. All logged at least 23 minutes with the exception of forward Grayson Carter. Forward Josh Leblanc led all rebounders with 11 caroms, adding a team second best tying 11 points. His two steals knotted him with fellow rookie Mac McClung for team tops, as did a pair of blocks (equaled by senior center Jessie Govan).
McClung and first year point guard James Akinjo dropped eight points each, both starting. Ewing on that choice: "That's my starting lineup…They're two terrific players, nothing against" older options , sophomore Jahvon Blair and junior Jagan Mosely, "but that' who I want to start. That's why they pay me, put me in this position to make that decision".
Akinjo paced all assisters with seven. Unfortunately he also had a game high four turnovers. Giveaways were a thorn in Ewing's side, as his team had 19, three more than UMES.
Ewing attributed the cough-ups to "Not taking care of the ball, being lackadaisical. When guys are open not passing the ball freely. Driving in there taking shots when other people are open. Just a lot of mental mistakes".
Govan led the Blue and Grey with 13 points, while adding seven rebounds for G'Town, who finished with 44.2% overall shooting, 37.5% from beyond the arc. Sophomore wing Jamorko Pickett had 11 points and four caroms.
Junior UMES forward A.J. Cheeseman was the contest's leading scorer (19 points). Following him was junior guard Bryan Urruitia's 13 points. The Hawks's junior guard, Dontae Caldwell finished with eight rebounds. Their team shot 34.9% from the field, and a paltry 17.4% on three point attempts.
The Hawk's head coach, Cliff Reed sounded similar to Ewing, as he noted "We're trying to put things, the pieces together. We've got new guys (seven), trying to figure out who is going to do what. That type of thing. But I'm proud of the way they really played hard".
Up next for UMES (0-1) is a road game at NC State. This contest begins at noon EST.
Georgetown also next takes the floor Saturday evening, when Central Connecticut State comes to Capital One Arena. Tip off is 6p EST.