Hoyas withstand run, earn victory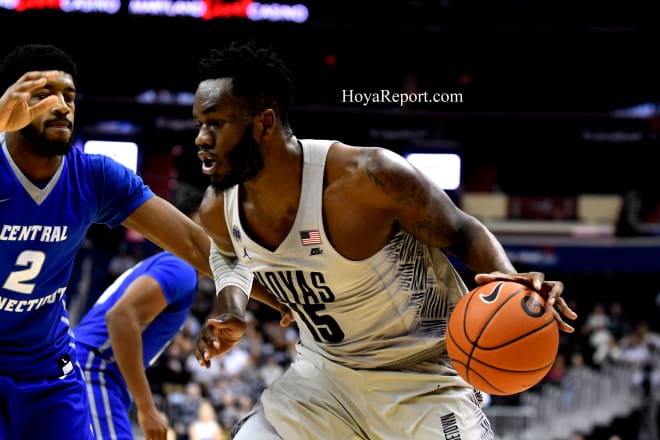 November 10, 2018 - Having been up 13 very early in the second half, head coach Pat Ewing found his team with just a two point advantage twice under six minutes to go. Momentum was palpably on the side of Central Connecticut State. The Blue Devils contingent was then loudest among Capital One Arena's 5,270 announced attendees.
"We weren't executing. We weren't getting good shots" highlighted Ewing afterward, when asked how his team squandered their lead. He lamented "29 threes" being taken for the game, and "didn't make a very good percentage on them (37.9%). Per the coach some of this team's long balls "were not good shots", made worse by giveaways (13 for the game).
G'Town then started to make things happen; Twelve of the team's next 15 points came from beyond the three point land, propelling the Hoyas to a 15-2 run and an eventual 85-78 win.
The Hoyas, who shot 45.6% from the field were led in scoring by senior center Jessie Govan's 26 points. He canned 10-13 of his shots, including 2-3 three pointers, while also pulling down eight rebounds. His carom number is a game high.
"Govan is a special player. He hit some big shots at the end of the game" said CCSU's head coach, Donyell Marshall of G'Town's star pivot.
When asked about what spurred his prodigious production, Govan simply said "It was one of those nights. I was feeling it from the tip. The guys were getting me involved early. It just carried over throughout the whole game".
A trio joined Govan in double figure Hoya scoring: Freshman point guard James Akinjo logged 13 points, followed by 12 each from senior forward Trey Mourning (six boards) and sophomore wing Jamorko Pickett (five caroms).
Pickett's defensive impact was lauded by Ewing, Marshall and Govan, work centered around slowing down Tyler Kohl. A senior forward, Kohl finished with 19 points, but was held to four in the first half. His CCSU Blue Devils shot 48.3% from the field and whopping 48% on long balls.
Ian Krishnan, a suburban Washington, DC native led all scorers with 28 points for CCSU, playing all but two minutes in the contest. Coming home was motivation for Krishnan, who opined "I feel like everybody on my team could play here at Georgetown. That's why we came out here and gave it a good shot".
That they did, and face their next one at home vs UMASS Lowell, November 13th. Tip-off is 7p EST for CCSU, now 1-1.
Georgetown (2-0), is slated to play at Illinois in Gavitt Tipoff Game play (BIG EAST vs. Big 10). That November 13th tilt has an 830p EST start.