Hoyas in DC Pro City Kenner League - Day 5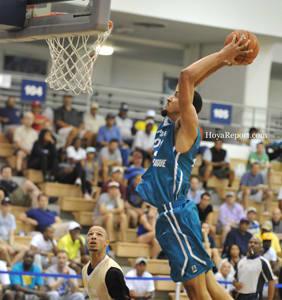 July 22, 2014 - The Nike DC Pro City Kenner League is rolling, with college and pro guys descending upon McDonough Arena, to the delight of fans. Again we spotlight not only Georgetown student athletes, but players from other colleges and the professional ranks.
Following are standout players from this past Saturday. For more on G'Town guys, see
Premium Court
.
Eric Jones - 6'5", 180 pound sophomore shooting guard, NC Wesleyan, Clydes - A graduate of DC's now defunct Spingarn HS, Jones pulls up, drives and will follow shots for rebounds. Is tough.
Needs to get stronger, thereby allowing him not get bump, while bumping himself.
Travis Garrison
- 6'8", 210 pound forward, Premier Athletics - Hit several mid-range jumpers, and ran the floor. A former Maryland Terp, Garrison didn't play competitively last year, choosing instead to train and develop his game.
Must play with more aggression in the paint. Dropped 12 points.
Sean Beins - 6'8", 230 pound junior forward/center, Mercyhurst, Premier Athletics - A banger by nature, Beins goes after rebounds, sets picks and scores inside. Has to burnish his mid-range spot up game.
Is a fixture on Premier Athletics, the youngest player on the squad. Of the experience, Beins said "I love it. I get to learn a lot".
Jasper Williams
- 6'2", 190 pound point guard, Branton (NDL), Symonds - When at Hampton and before, Williams was a scorer who got buckets. He's now a very slick passer who can score, including sinking three balls.
Should include work on his stop and pop jumper going forward. Scored 18 points.
Gus Gilchrist - 6'8", 230 pound forward/center, Iowa Energy, Symonds - Simply put on a show; Gilchrist rebounded, shot, finished and defended at a high level. Scored an eye-popping 36 points.
Though he was very proficient on three balls, has a tendency to fall in love with them. Needs to work on his balance/core, thereby allowing him to not be thrown off line by contact after his first post move.
Bobby Maze
- 6'3", 185 point guard, Tombs - Maze played hard and led, including pushing his teammates. Scored 15 points.
The fact he seemed fatigued in the second half should not be a surprise, as Maze did not compete last season, choosing instead to mentor a younger DMV player, Mike Beasley.
Isaac Copeland
- 6'8", 200 pound freshman forward, Georgetown, Tombs - Along the way to 21 points, Copeland demonstrated increased spot up shooting skill, along with the capacity to put the rock down and drive with his right hand. Was pushed throughout the game by Maze to play harder.
To start the second half he listened...
Mikael Hopkins
- 6'8", 230 pound senior forward, Georgetown, Team Takeover - Was fairly steady, scoring 15 points in the paint while also rebounding.
Needs to...
Maurice Sutton
- 6'11", 220 pound center, On Point - 7'0", After spending a year with the D-League's Tulsa 66'ers, Sutton is more aggressive, active and impactful than before. Can score on the break, on follow ups and via a developing jump hook. Challenges shots.
Sutton must continue to get stronger in his upper and lower body, while drilling back to the basket moves. Presently he's more comfortable offensively when open lanes exist, allowing him to crash. Scored 10 points
Jay Gavin
- 6'3", 210 pound guard, Linberg (Germany), On Point - Gavin has taken the long route to pro ball, first attending VCU then Bowie State. He even stayed with a friend in Spain, working hard to become more comfortable as a point guard.
It's paid off, as Gavin scored 21 points, not only displaying his shooting touch but getting to the rack. Also dimed to teammates.
Understands and embraces the need to be even better as a lead man, saying for him "It's better to be a point guard".
Yuta Watanabe - 6'9" 205 pound freshman forward, GW, A. Wash - With greater strength work, including developing his upper body, GW may have a star on their hands; Watanabe, a native of Kagawa, Japan finished in open court situations. He plays above the rim. Can also hit spot up three balls, and will defend shooters.
A long athletic player that stood out last year with St. Thomas More (CT) prep school, Watanabe scored 18 points. Lefty has a good feel for the game.
D'Vauntes Smith-Rivera
- 6'3", 210 pound junior guard, Georgetown, A. Wash - Dropped 19 points, driving and shooting the rock. He can put the ball in the basket. Illustrating a greater penchant to pass.
Still not...
Trey Mourning
- 6'8", 210 pound freshman forward, Georgetown, A. Wash - Scored four points. Defended the paint and made an effort to rebound. Has a pretty good release on his corner jumper.
Is not...
Jabril Trawick
- 6'5", 220 pound senior guard/forward, Georgetown, Team Takeover - Had the
Play of the Day
, a wowser that saw him leave the floor just inside the lane and punishing the rim.
Trawick opened up...
Next Destination Notes:
Andrew Washington
(aka Spongebob), 6'3", 220 pound guard, Premier Athletics - Indicated he was in South America last year, specifically Paraguay, in addition to playing in Israel also. Said he's definitely playing internationally next year, though the location is unknown.
Christian Jackson
, 6'4", 210 pound guard, Premier Athletics - Hopes to hit China's NBL next season, with Xuzhou being a possible option.
Bobby Maze - A former Iowa Energy player, after his year long hiatus last season, Maze indicated "I'm going overseas", an effort aided by new representation.
Gus Gilchrist - Foresees European work in his very near future.
Jasper Williams - Enjoyed his time in Canada last year. Is working on options in Germany and Spain.