Crawford continues to shoot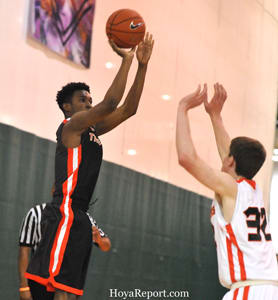 During this year's Nike EYBL travel team circuit, Crawford is not setting the world on fire shooting for Team Takeover - sinking 46.1% from the field, 33.3% on three pointers - but those numbers are somewhat misleading; Bryant is willing to take perimeter shots in multiple situations. And he's making them, many being key attempts.
"My teammates found me a lot on the break, and in the half court set when they went zone, I felt like it was a lot of open shots there to be made" said Bryant last weekend at EYBL-Hampton. "I stepped up".
That he did, dropping 23 points and five assists in 30 minutes of play in a 81-74 slugfest with Albany City Rocks. His work included going 8-12 from the field and sinking two of four three pointers. One was even on the secondary break, a shot delivered late in the game, creating a little breathing room for Takeover. An attempt delivered like he knew it was going in.
"Coach Keith (Stevens) gets on me because I'm shooting a low percentage from three" shared Crawford when asked about long ball shots. "But I still take them, I have confidence in my shot".
Expounding further on getting up long shots in games, Crawford said "I feel like I can make the shot. But I'm going to keep shooting, probably get into the gym and work on the shot more. But other than that, I'm going to keep shooting because I feel comfortable taking that shot and making that shot".
This incredible offer expires May 30th, so don't delay!