A Profile look at Ivan Raab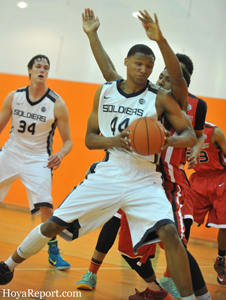 May 22, 2014
- When you are 6'10 and talented and still growing a lot of attention comes your way. That is the case of Class of 2015 center
Ivan Rabb
currently rated by Rivals.com as the number two high school player in the USA. My fellow readers know that I don't get caught up in the rating game but for conversation I will use them for reference.
I recently attended the EYBL Nike league stop at the Boo Williams complex at Hampton, Virginia, where 40 of the USA's top 17 and under teams were battling for court supremacy and the right to capture the Peach Jam Championship later this summer. Rabb was there.
The High School Season
Bishop O' Dowd (Oakland) finished their season with a record of 28-5 representing the northern division in California's open super division against southern division champ and national power Mater Dei (Santa Ana). O'Dowd fell short losing 71-61 after winning 24 consecutive games in route to the state championship game. It was their second loss to the Monarch's during the season. The first loss was a 63-59 overtime thriller at the Tarkanian classic.
"I am looking forward to next year. I want to bring my guys along with me. We play a national schedule next year" he said. "My coach (Lou Ritchie) wants me to become more of a vocal leader and that's what I have to add to my game".
He continued, saying "As an 11th grader last year I considered myself one of the better players on the team". Raab, who finished his junior year averaging 25points, 15 rebounds and eight blocks per game, also commented "I have had to grow up quicker than a lot of people".
Rabb won a gold medal in USA Basketball in the 16 and under division. He's presently "working on my offensive game as well as defense blocking shot and rebounding" as "I want to get better".
Elite Youth Basketball (EYBL) Travel Team Season
Ivan's Oakland Soldiers are currently 7-5, tied for second in the B division.
"We are working hard to win because we don't get a lot of time to practice" he shared. "It's been tough but we are starting to come around". The Soldiers went 3-1 at Hampton.
To read what Stephen's reported regarding Rabb's recruitment, specifically his Georgetown in-home visit and Ritchie's take on the recent unofficial visit, also attended by Rabb's mom, see
Premium Court
- our private, subscription message board.
Non-subscribers can join virtually for free by paying $99.95 and receiving $99 in gear by
clicking here
. Month-to-month members can also take advantage of the special thru internet enrollment or by calling 1-866-2-RIVALS. Both need to use promo code
Rivals99
in doing so. Hurry, as the offer expires May 30th.

Click
Here
to view this Link.